Well, I guess I am going to open a blog for my shop so that I do not scare/offend anyone who stops here and wants to avoid product selling. I hate pushing myself on others. I just put an 'ad' on a group list I am on-->Pembroke-L. I am a member who does contribute and I did ask permission, but that doesn't mean I feel good about it. This is why I will not work in a salesperson position. I know what it is like to get the pitch but have no money to buy or not care about the product being sold.
Actually, I like the product(s) at CafePress. Hopefully, my designs will be well liked. Must have faith in myself. I did just come up with a few new clock designs and I hope to add a few new shirt ideas. But this will be something for my new blog to talk about. Keep watching as I will be putting that blog together soon.
You may be wondering why I have not posted in a few days. Well, I got caught up in the 'Net again. I need to find a group for Online Comic Addicts. I have fallen in love with another strip. Count Your Sheep I do not know how this guy comes up with his ideas, but I just spent the last day and a half going through his archive. He is freakin' brilliant. I am hopefully going to be successful in putting a link for his comic below along with the running "The Mow" strip. Believe me I have a few other favorites. Keep your eyes posted for the other links to show up.
As for more personal information, I did attend the 'job fair' on Thursday. It is with a temp agency. I do not know if anything will come of it or not. I am a little worried about no income, but something is going to have to give soon or I will end up working in a job I would really hate (sales/fast food.) I know it is money, either way.
As a little bit of a treat, I am attaching a photo from my trip to Washington. For anyone coming to this blog in the next few days, you will be the first to see this picture before I share it with anyone else. This is Porter with the Mississippi River in the background.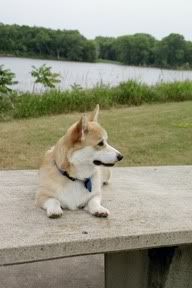 Enjoy and May the Corgi of Love send you slurpies.